2mx2m transonic wind tunnel
Japan's largest transonic wind tunnel that can conduct testing continuously over a long period of time in the Mach number range of 0.1 to 1.4
This wind tunnel is a continuous flow wind tunnel with a gauging section of 2 m × 2 m (square). This is Japan's largest transonic wind tunnel that can conduct testing continuously over a long period of time in the Mach number range of 0.1 to 1.4.

This wind tunnel can be used to grasp the aerodynamic characteristics of an aircraft which travels at transonic speeds (speed of sound = Mach number speed of around 1) . In addition, given the complex changes in the characteristics of flow in the transonic speed range, testing of rockets and space planes passing through this speed range is frequently carried out. This wind tunnel has the highest demand among the wind tunnels and ingenuity is implemented everywhere to improve test data productivity. At present, to address expanding needs, we are expanding the number of test section carts (completion scheduled for 2006).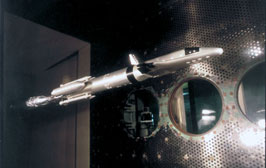 Department
Aviation Technology Directorate
Specifications
Specifications Type: Continuous circulation type
Test section measurements: 2 m × 2 m
Mach number range: 0.1 to 1.4

Wind tunnel pressure:
 50 to 120 kPa (Main blower and auxiliary blower simultaneous operations)
 50 to 150 kPa (Main blower standalone operations, Mach number up to around 0.9)

Test section cart:
 Perforated walls for full-span models, perforated walls for half-span models, multi-groove walls for full-span models

Compressor:
 530 kW × 1, 1,200 kW × 1, 3,450 kW × 1 (share with the blowdown tunnel)

Main blower power: 22,500 kW
Auxiliary blower power: 8,000 kW

Air storage tank: Inner diameter 12 m × 1, 13 m × 1 (shared with blowdown wind tunnel)
Year of completion
FY 1960
FY 1976 (12 m air storage tank)
FY 1980 (3,450 kW compressor)
FY 1987 (renew blower drive motor and exhaust ventilator)
FY 1988 (renew 13 m air storage tank, 1,200 kW compressor)
FY 1989 (newly install a 530 kW compressor)
FY 1992 (renew auxiliary blower facility)
FY 1993 (repair No. 3 cart and test signal system, newly install combined load balance calibration rig, conduct Phase 3 noise-proofing work)
FY 1994 (renew water cooling facilities)
Fees
949,908 yen/day (Current as of April 1, 2022)

*The usage fee above includes the general management fee.
*The usage fee above does not include technical fees, consumption tax and operational fees before and after testing. These fees will be charged separately.
*The usage fee is calculated each fiscal year. In addition, prices may be revised without notice midway through the fiscal year. Inquire using the form below for details.