Leading satellite rideshare and mission management provider
Spaceflight is revolutionizing the business of space transportation through its comprehensive and innovative suite of rideshare launch and mission management services.
The company offers routine launch options through a portfolio of global launch vehicles and unprecedented flexibility to make make getting to space easier, faster and with more reliability than ever before.
History
Spaceflight Inc. was founded in 2010, with the vision of fundamentally changing how satellites get to space. Sending satellites into orbit once required purchasing an entire rocket; however, with the growing industry of smallsats, the demand for routine, cost-effective access to space has increased exponentially. Demand, coupled with the growing number of launch vehicle providers, created an opportunity for Spaceflight to assist in identifying, booking and managing rideshare launches. Today, it is leading the industry in providing rideshare launches to both commercial and government organizations.
To date, Spaceflight has launched more than 300 satellites across 32 rideshare missions. In 2019, the company successfully executed nine missions, sending more than 50 payloads to space. In December 2018, the company successfully executed the U.S.'s largest rideshare mission, deploying 64 smallsats originating from 17 countries from a Falcon 9.
As of June 2020, Spaceflight is part of the Mitsui & Co., Ltd. portfolio, operating as an independent, U.S.-based company.
Business
Spaceflight works with a large portfolio of launch vehicles, including Falcon 9, Electron, Vega, and PSLV, to provide a variety of launch options to its customers. The company offers state-of-the-art satellite integration capabilities, including flight and ground support hardware, licensing and logistics management, and mission expertise to support each customer's specific mission needs. Spaceflight is also developing a combination of innovative hardware, software, integration, and launch solutions that will allow spacecraft to switch between launch providers in the case of a delay or other event.
Products/Services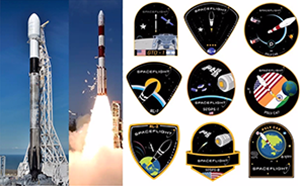 Rideshare Launch Services via Global Network of Vehicles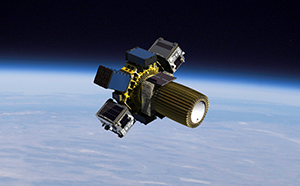 Orbital Transfer Vehicles, Hardware and Comprehensive Integration Services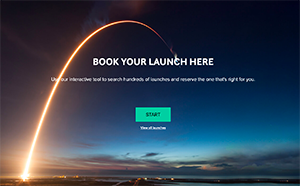 Online Booking and Mission Management Services
Main Clients
Hawkeye 360, Planet, Satellogic, Canon Electronics, Fleet Space Technologies, Honeywell Aerospace, iQPS, Loft Orbital, NASA, Astrocast