The world's only CdTe radiation detector manufacturer performs the processes from material refining to mounting.
The Astro-H X-ray astronomy satellite is scheduled for launch in 2015 and will carry advanced observation instruments—the company involved in the manufacture of one of the instruments onboard is located in Uruma City, Okinawa. Acrorad Co., Ltd., develops and manufactures cadmium telluride (CdTe) semiconductor-based radiation detectors. This company is characterized by the consistent process from refining of Cd and Te to mounting of CdTe devices with Si circuits and is the only company in the world making a profit among the manufacturers that offer such detectors.
CdTe, which is used for detectors, has the advantage of being able to achieve higher radiation detection efficiency and operate at room temperatures compared to silicon (Si) and germanium (Ge), which have been traditionally used. (For example, for Ge, a cooling device that uses liquid nitrogen at – 196ºC is required.) In addition, CdTe also features high density to achieve sufficient detection accuracy even though the device is thin. Approximately one millimeter-thick CdTe devices can detect X-rays.
The strong point of Acrorad is that it established the technology for manufacturing highly pure, highly resistive, and large CdTe crystals. This technology is supported by the company's extensive expertise accumulated from over twenty years of research. Acrorad quality is supported by expert knowledge in the conditions that need to be met for sufficient crystal growth and the methods of forming electrodes, which cannot be obtained from patent information and articles.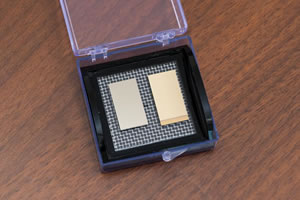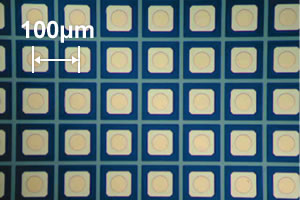 Thirty thousand picture elements are arranged at 100 micrometer-intervals on both a CdTe device and a silicon circuit, which are as small as a fingernail. The CdTe device and silicon circuit are overlaid on each other in a way that the picture elements on both parts overlap to create a two-layer hybrid device.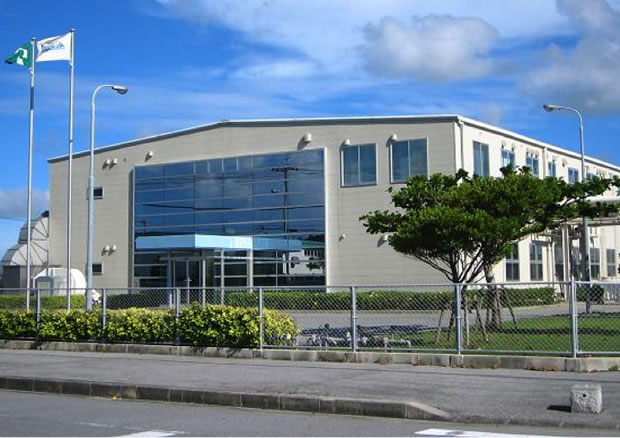 The Acrorad headquarters and plant in Uruma City, Okinawa. According to Acrorad, it had been in the red for the first eleven years since its establishment and experienced a cumulative deficit of up to 1.3 billion yen. As a result of a subsidy from the government and Okinawa Prefecture, as well as obtaining a loan from investors, the company became profitable in its twelfth year. Current plans are to expand the plant for mass production.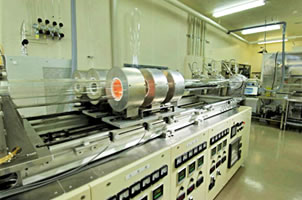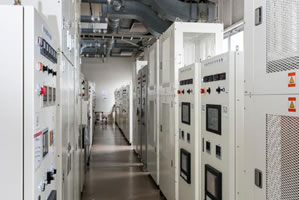 The purity of cadmium (Cd) and tellurium (Te) is increased from 99.99 % to as high as 99.9999% by using a zone refining system. After that, a crystal growing system (THM method) is used to grow a single CdTe crystal. It takes more than one month until the crystal grows to the size required for commercialization.。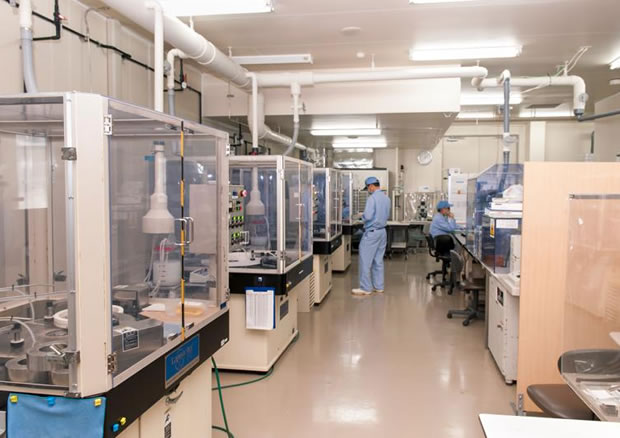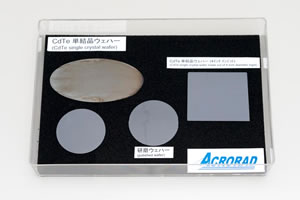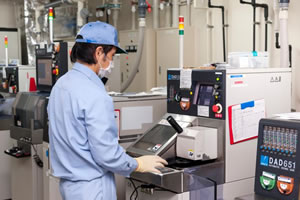 A single CdTe crystal grown into a cylindrical shape is cut into 0.5–3 millimeter-thick wafers according to the intended use, and they are mirror-polished using a system to form electrodes. In the final stage, the quality and performance of detectors are examined carefully by human eyes to check for any cracked picture elements.
Acrorad Co., Ltd.
| Acrorad Co., Ltd. | Uruma City, Okinawa |
| --- | --- |
| Main base | The headquarters and plant (in Uruma City, Okinawa) |
| Main business | Development, manufacture, and sales of CdTe devices and CdTe radiation detectors |
| Space equipment manufactured in the past | The Integral astronomy satellite (ESA) The Astro-H X-ray astronomy satellite |
| Company website | http://www.acrorad.co.jp/index.html |
INTERVIEW
インタビュー
Participation in space developmentis an investment in the future.
ACRORAD
CEO and PresidentRyoichi Ohno
Acrorad Co., Ltd., established the technology and know-how for mass-producing large, high-purity cadmium telluride (CdTe) crystals, and the company is the largest and only manufacturer in the world that carries out research and development of radiation detectors. We heard the story behind the development of the radiation detector loaded onto the Astro-H astronomy satellite that is scheduled for launch in 2015 as well as the involvement in space development.
---