Kyocera's mother plant, br>where a wide variety of products are br> handled by the company
Situated in the city of Higashiomi, Shiga Prefecture, the Shiga Gamo plant is one of the sites operated by Kyocera's Corporate Fine Ceramics Group. Having begun operations in 1963, this plant is the first mass-production plant owned and operated by Kyocera. The integrated production of items from scratch (raw materials) is a salient feature of this plant. All processes—from the preparation, molding, sintering, and processing of raw materials and the joining of the results with metals by way of metallization to the finishing of products—are carried out at this plant.
An exceedingly wide variety of items are manufactured at this plant, including machine parts for pumps and valves, insulating parts for use in the relay boxes found in electric cars, cases and other parts for electronic devices, electronic parts as typified by inductors for mobile phones, and parts for semiconductor manufacturing equipment and ultra-high vacuum equipment, as well as artificial joints and other medical materials coming under the charge of other group companies. Parts manufactured at the Shiga Gamo plant are even used at Spring 8, a large synchrotron radiation facility in Harima Science Garden City in Hyogo Prefecture, and LHC, a large particle accelerator operated by the European Organization for Nuclear Research on the border between Switzerland and France. With technology developed here having been transferred to other plants, this plant is known as Kyocera's mother plant.
The manufacturing of ceramic parts begins with the preparation of raw materials still in their powdery state. Prepared materials (known as secondary materials) are pressed together into the intended product form using a precision die. Where necessary, a pre-sintered half-finished item that has been pressed together will be subject to cutting. Ceramics shrink about half their size when sintered. A considerable amount of expertise is accumulated by the time one can decide on the dimensions of a die in anticipation of the final measurements. For a precision part, post-sintered cutting is carried out to achieve the required degree of precision.
For metallization, a metal paste known as metalizing ink is applied to the ceramic surface. Silk-screen printing is used where something is being mass-produced, but this ink is sometimes applied with a brush by a seasoned worker where small batches or single items are being produced. In such a case, the quality finish being sought will vary depending on the selection of the brush being used and the skill level wielded for the task.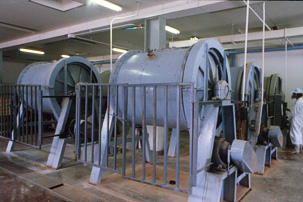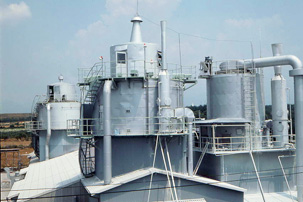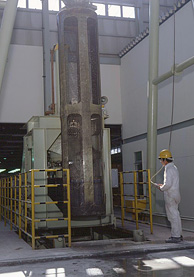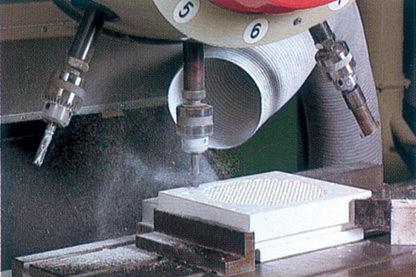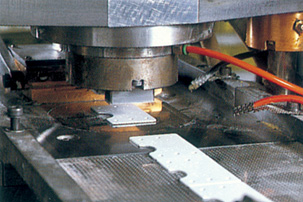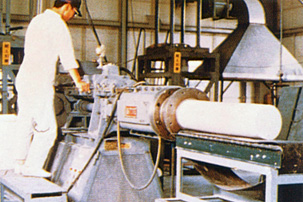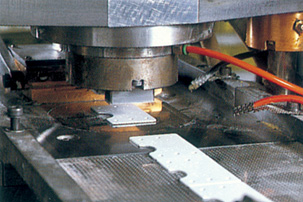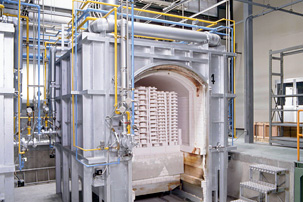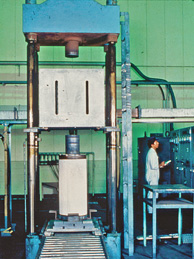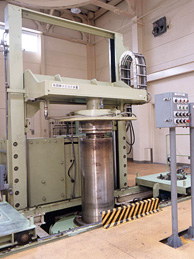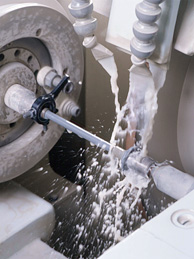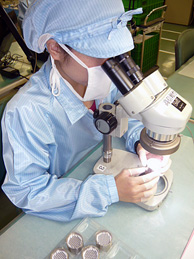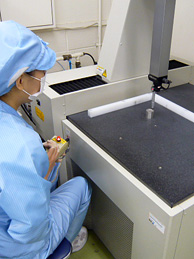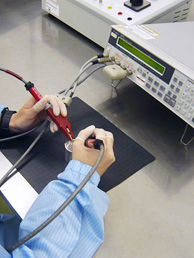 KYOCERA
HQ Location
Kyoto City
Established
1959
Main manufacturing sites br> (Corporate Fine Ceramics Group)
Shiga Gamo Plant (Higashiomi City, Shiga Prefecture)
Shiga Yokaichi Plant (Higashiomi City, Shiga Prefecture)
Kagoshima Sendai Plant (Satsumasendai City, Kagoshima Prefecture))
Kagoshima Kokubu Plant (Kirishima City, Kagoshima Prefecture), and others
Main Products br> (Corporate Fine Ceramics Group)
Machine parts, parts for information and communication equipment, ceramics for electronic parts, parts for ultra-high vacuum devices, parts for medical devices, and more
Main Astronautics Equipment Produced
Terminals for lithium-ion batteries used on the Hayabusa, an asteroid space probe, and the Akatsuki, a space probe for exploring Venus br>Fuel tank penetration flange for H-I rockets;
Corporate site
http://global.kyocera.com/
INTERVIEW
インタビュー
Destructive inspections were also required to br>develop the battery terminal for br>the Hayabusa spacecraft.
KYOCERA
Senior Manager, Ceramic Quality Assurance Department 1,
Fine Ceramics Quality Assurance Division, Corporate Fine Ceramics Group
Takuya Kitamura